Development tool is a set of features that assists the implementation of an application either web or desktop. So the development tool can be an important part of the process.
We could use a simple notepad to program, but how much time would be spent to build an e-commerce without the help of any resource? That is where the development tools can help us!
With a good development tool you can create web applications quickly and with more effective results.
How to choose a good development tool?
To get a good development tool is essential, but you do need to be careful of some important points, such as:
Constancy of tool upgrades;
Available resources that will assist you in the development process;
Document management (versioning);
Technical Support.
In addition, other points need to be considerated when choosing a tool as the cost-effective and the programming language it uses.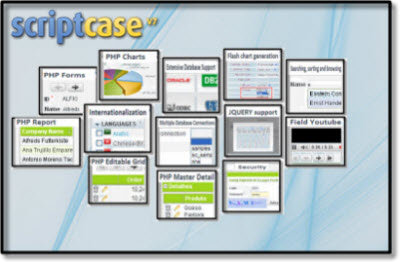 PHP Development Tool
PHP has been highlighted in the web environment, its numerous benefits justify the current scenario. The amount of tools for that proposal is growing up, but what we should analyze is that many of them do not fit the requirements presented in this text. So finding a good PHP development tool can be a complicated task. Scriptcase fills in this task as an excellent development tool!
With Scriptcase you has a quality support and a great variety of native features on the tool, all to make your development faster. Using the RAD concept, it can provide intelligent solutions to solve the problems of a programmer without requiring hours of development and countless lines of code.
One of the most interesting features of Scriptcase is the easy generating of screens like reports and registration forms. With a few clicks you have complete screens built in seconds. Select the database table and everything is ready in seconds! Want to know more? So download now the free version of our tool and start right now to enjoy all benefits that our tool provides.