Search
Settings
In the area below you can define all the options that'll be part of the of the Search Form.
Search configuration Interface.
Attributes

Search Criteria : Allows to select the SQL command AND or OR to define the criteria of the search used;
Display Condition : Displays the condition of the search for the user to choose. In this case "AND" or "OR" will display in the search form, so that the user can choose the desired option.
Use auto-complete in the fields : The field turns into an autocomplete automatically according to the existing values in the database, If the user chooses Yes, the autocomplete will enable automatically in all the fields that contain a relationship. If the user chooses No no autocompletes will be displayed. In the case the option selected is Defined in the field it'll respect the configuration individually for each field.
Dynamic Search
This feature allows the user to search records the application without leaving the current screen, the developer needs to indicate which fields will be available.
Settings
Dynamic Search configuration Interface
Use the ENTER key to : Use the Enter key to tabulate from one field to the other, or to submit the search.
Select Fields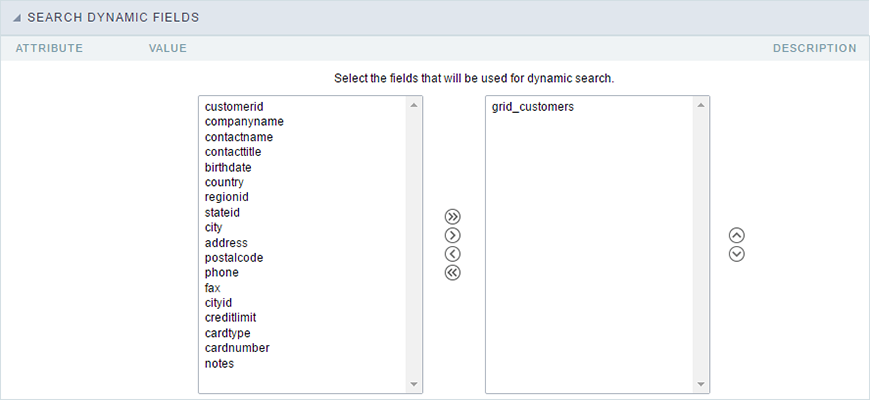 Dynamic Search Field Selection.
QuickSearch
Quick Search is an option that allows to search data in various fields of the application, by using the text box in the toolbar.
Application running QuickSearch.
QuickSearch Settings
In the quicksearch settings are the following options:
QuickSearch Configuration Interface.
Button within the search - An option to inform if the search button will be in the text area of the box. Quicksearch show combo box - Displays a combo box if there is only one option in the quicksearch. Quicksearch Watermark - Displays a Placeholder in the quicksearch. Quicksearch width - Defines the width of the Quicksearch field. Display the Quick search old format - Displays in the old format with the selection of the fields in the Quick search. Search anywhere - If enabled, QuickSearch will search each part of the String for the data informed in the field.
Select Fields
You need to define the fields that are part of the search in the Quicksearch Settings .
QuickSearch selecting fields Interface.
And you can select various criteria of the search.
QuickSearch search criteria configuration Interface.
You need to add the QuickSearch button in the toolbar in order to use it.
Fields
This is a list of fields available for use in the filter. Click on the desired field to access the configuration instructions.