HTML Image
General Settings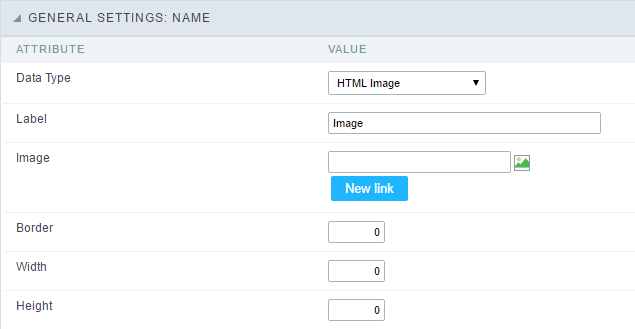 HTML Image field Configuration Interface.
Data Type : Define the type of field for the application. When it is defined as HTML Image, it allows to place an image to the field.
Label : Defines the title of a field in the application. For example: if the field is defined in the database as cmp_name_client, it will be more clear for the comprehension of the user if the name would be "Client Name".
Image : Defines an image that will be displayed. The icon "Select Image", lists all the standard images from scriptcase and also the image that you have uploaded to scriptcase. The icon "Upload an image" allows the developer to send an image to the server which is from another machine.
Border : Border size for the image in Pixels.
Width : Define the width of the image in Pixels.
Height : Define the height of the image in Pixels.