Installer for MacOS
ScriptCase installer is an executable file for MacOS. An application that automatically extracts the APACHE, PHP and SCRIPTCASE configuration to your operating system.
That is what will be installed automatically on your Operating System:
Apache Web Server 2.4.15
PHP 7.0 with the extensions mbstring, zip and gd enabled.
Source Guardian 11.0.6
Scriptcase 9
Before proceeding with the installation, it is recommended don't have any other web environment installed (XAMP, Zend Server, etc.) installed on the operating system. It is also recommended that you know the basic shell commands to use the terminal(shell). We recommend using the SQLite database for the ScriptCase installation.
This manual describes the installation of ScriptCase in 2 steps:
1: Select the installer configurations.
2: Execute ScriptCase.
Selecting the configurations on the installer
1 - Selecting the installation language.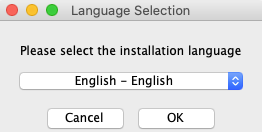 Language: We can select the language that will be displayed in the installation process. This step doesn't select the language for the ScriptCase interface, only for the installation.
Click on Ok to continue.
2 - "Welcome" Message.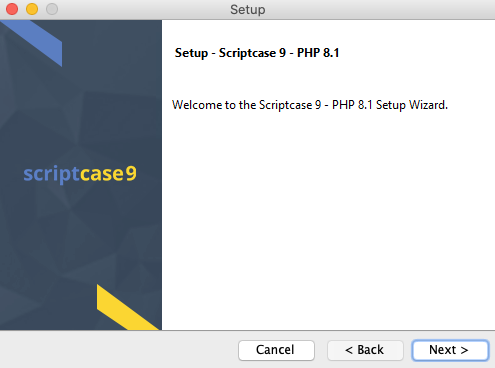 This window displays the installer "Welcome" message.
Click on Next to continue.
3 - License Agreement.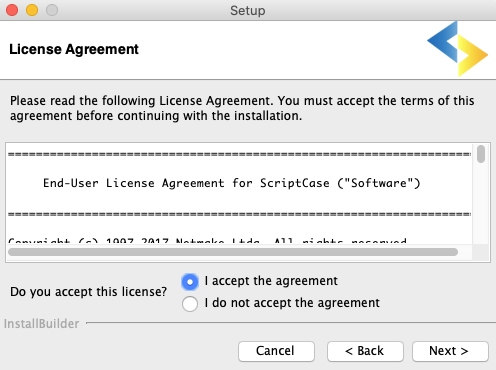 Do you accept this license?: You should accept the terms before continuing.
Click on Next to continue.
4 - Installation Directory.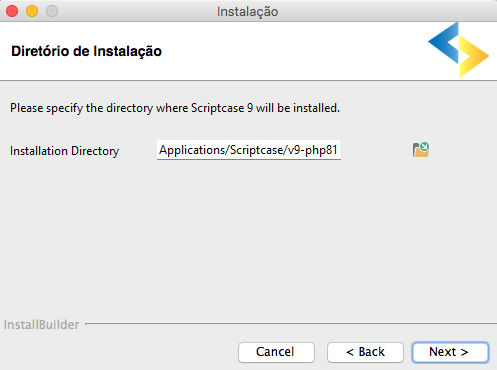 The predetermined installation path is "/Applications/NetMake/v9/". Don't change this path unless it is necessary.
Installation Directory: Define the installation path for ScriptCase.

: This button allows you to select a directory or create a new folder.
Click on Next to continue.
5 - Apache Configuration.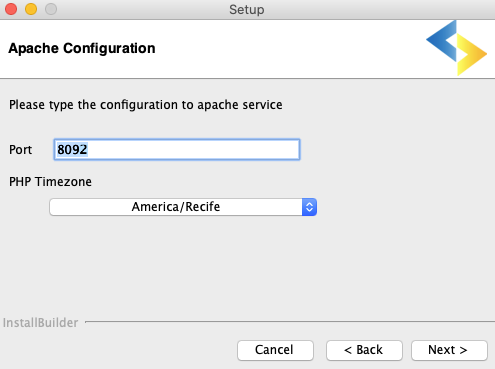 Port: This option will define on which port the Apache service will run. We recommend use the predetermined value.
Administrator Email: This email will be for the Apache administrator.It is an Apache configuration, not from ScriptCase.
Apache Domain: The Apache Domain should be defined here. We recommend use the predetermined value.
PHP Timezone: Select your Timezone.
Click on Next to continue.
6 - Ready to Install.
Click on Next to install ScriptCase.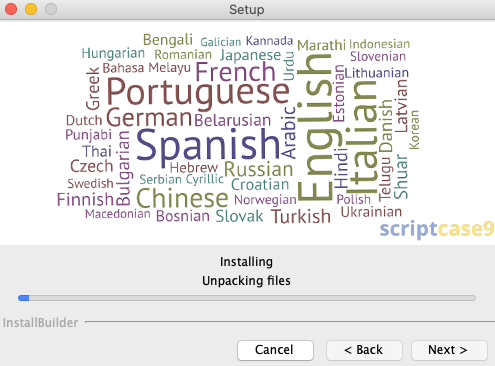 Progress Bar: Displays the installation overall progress.
7 - Completing the Installation.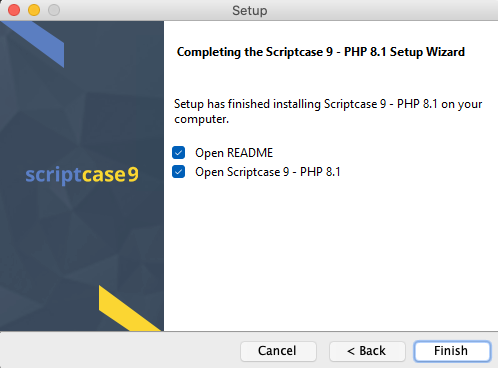 View "Readme" File: When clicking on finish, will be displayed the "Readme" file.
Open Scriptcase 9.0: When clicking on finish, ScriptCase will start.
Click on "Finish" to complete the process.
Using ScriptCase
To access your ScriptCase, open the browser and inform the local IP and the port that you informed in the beggining of the installation (Apache Configuration). Ex: http://127.0.0.1:8090/scriptcase