General Overview
The applications menu adds all features unique to applications like batch creation, express editing and application recovery.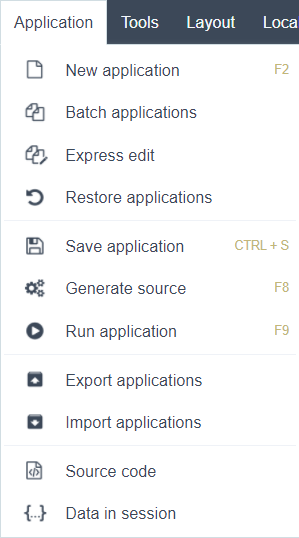 Below is a brief explanation of each option.
New Application
Opens the application creation screen. Despite being extremely simple, each application has different options, to better untangle the creation of each of the applications, the articles were separated.
Below are the links to the documentation for creating each of the applications. Click on the application you want to create
Create Batch application
Exclusive for creating Queries and Forms, it allows the creation of multiple applications with the editing link already configured.
Express Edition
Allows you to edit the project's applications simultaneously, allowing the definition of common values ​​between them.
Restore Applications
This feature allows you to restore project applications that have undergone some recent change. Restore points are automatically set by the tool whenever a change is saved.
Save Applications
This option saves the application that is open in edit mode at the time of saving.
Generate Font
Generates the source code only for the application opened in editing mode.
Run Application
Saves and runs the application that is open in edit mode.
Export Applications
Export one or more applications from the project. In this type of export, all the files necessary for the selected applications to work are sent.
Import Applications
Allows you to import applications generated from the Export Applications option.
It is necessary that the export of the applications has been carried out in an equal or lower version for the project export to work. Thus, it is not possible to export an application from Scriptcase 9.7.002 and import an installation 9.7.001.
Source code
In this option it is possible to view the source code of the application that is open in editing mode.
For this feature to be available, the application's source code must have been previously generated.
Session data
In this option, you can see all the session variables available in the development environment, that is, it is the session tree stored by Scriptcase.