HTML Image
General Settings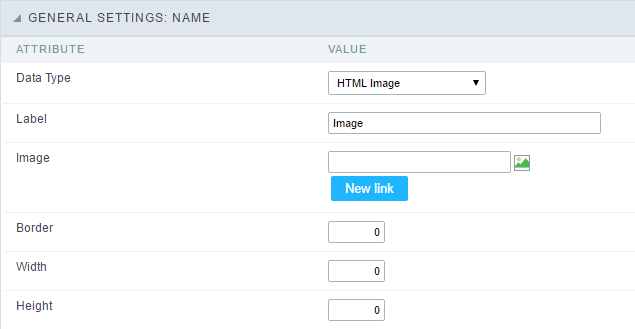 HTML Image field Configuration Interface.
Data Type
Define the type of field. When setting it to HTML Image, it allows to display an image into the field.
Label
The Label option lets you define the title of a field. Example: If the database field name is "cmp_name_client", You can display a different name for the user, like "Client Name".
Image
Define an image to be displayed. The icon "Select Image" lists all images from Scriptcase and your uploaded images. The "Upload an image" option allows you to send a copy to the Scriptcase server.
New Link
This button allows the creation of a field link with some other application..
This way, it is possible, for example, to create a link with a blank to delete a record from the grid, passing the record ID as a parameter.
See more information about field binding by clicking here.
Border
Define the width of the Image border in Pixels.
Width
Define the image width size in Pixels.
Height
Define the image height size in Pixels.