Creating a New Application
New Application
The creation process of one application is simple enough and intuitive.
You just need to select which application you want to generate in the applications available in Scriptcase, That it will be generated automatically.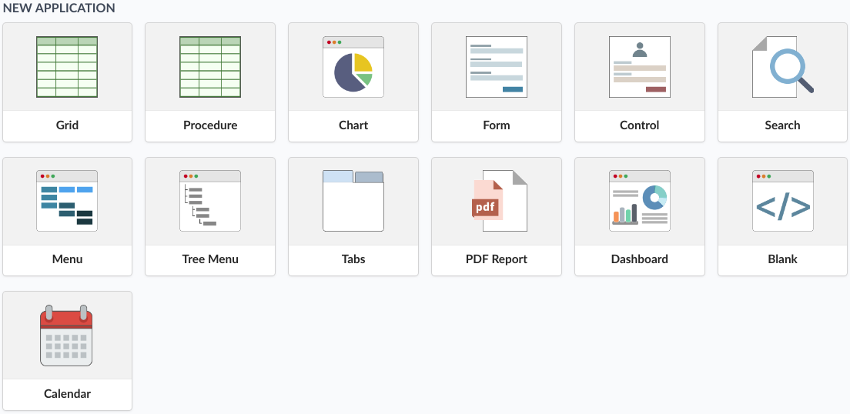 Application Data
When the application is selected, the following screen will be displayed below.
In this table you need to select the connection that will be used in the application. The tables will be loaded and displayed in the field Table when the connection is selected.
It is possible to select more than one table in the application creation.

Connection - It defines the used connection to create the application. All the project's application will be displayed.

Tables - It defines the used tables in the application. (Form and Calendar can only use one table).

Fields - It defines the fields that will be part of the applications.
SQL Select Statement - Display the select statement created after selecting the tables and fields. This field allows also to insert a previously created SQL, if the used tables are available in the database selected in the connection.
The calendar application is a little different of the others because it has two group of fields, the form's group inside the application and the field's group of the own calendar.
Edit Fields

Fields - Name of fields stored in the database.
Label - Name of fields displayed in the generated application.
Datatype - Field's datatype.
Insert - It defines the available fields in the insert.
Update - It defines the available fields in the update.
Read-Only - It defines if the field will be read-only.
Required - It defines if the field will be required to fill.
Edit Calendar Fields
In these field settings, we will relate the calendar fields to the table's fields that we are using in this application.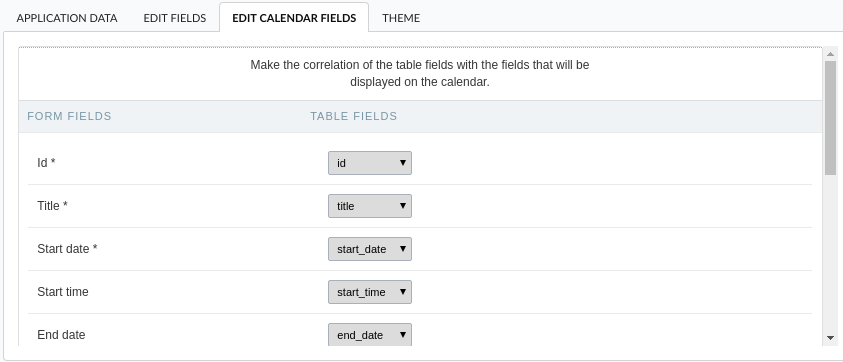 Form Fields - These are the fields returned from the database's table.
Table Fields - The calendar fields that are going to be related to the form fields.
Theme
In this screen you select the theme that the application will use. The default project's theme, that can be checked and changed in Project > Properties, will be selected automatically.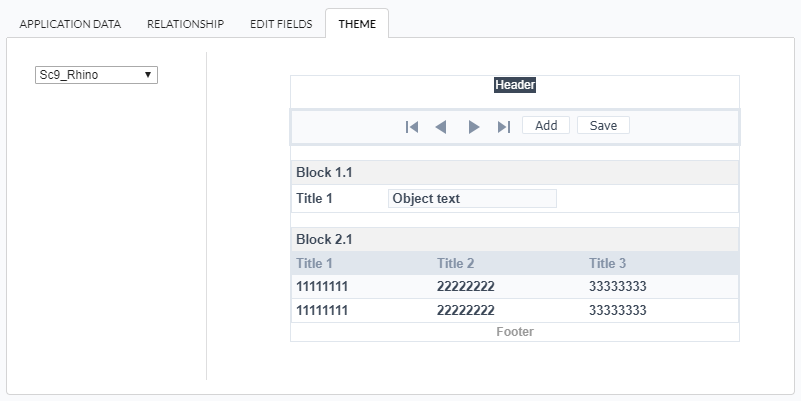 Theme - List of available themes in the project.
After all the settings are done, click in the button Create. In the next screen the settings of the created application will be displayed.