Services
Online
 This page shows all logged users into Scriptcase in real time. The current page each user is accessing, the date and time of access and other information.
Users
Username of the online user.
IP
IP of the workstation where the user is accessing.
Logon
Date and time of log in.
Access
Date and Time of the last know user activity in session.
Online
Time of the user current session.
Page
The page is the user accessing at the moment.
Application
The Application is the user accessing at the moment. This information may return empty if the user is accessing the ScriptCase settings.
Backup
ScriptCase's backup works similarly as the project export, but the backup does the export of all applications of your ScriptCase. To perform a backup, inform the name to generate the file.

Finally, download the generated file and save it in a secure location.

Restore

This option is similar to Project Import, however using the restore you can import more than one project at a time. When you access the restore you will see a list of backups performed recently, you will be able to restore these backups or to import a backup exported from other Scriptcase installation.

Backup
Backup generated files.
Created in
Creation date and time of the listed backups.
Restore
Backup restore.
Detail
Backup details.
Delete
Deletes the backup permanently.
To restore another backup, which is not in the list, select zip restore and upload a backup file created by Scriptcase.
After choosing the backup file, confirm the restoration. You must inform if you want to overwrite duplicate files or keep the existing ones in Scriptcase.

Configure Log

ScriptCase stores (in the database) a log of the main actions done by the users. We can customize the log registry by selecting or not the actions that we want to store.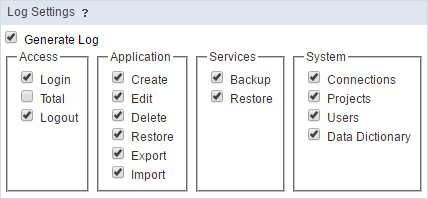 View Log

This option allows you to view the main actions done by the users separately by day. You can view the information of a desired date by clicking on the calendar. You can distinguish the days that have log with a blue background.

Login
Login of the user responsible for the action.
IP
IP of the computer that the user did the actions.
Time
Time when the action was done.
Type
The type of action done.
Action
What action was done.
Info
Details of the action;