Offline Registration
This is the final step in the process to make an Offline Registration , where the tool registration will actually be performed.
To proceed, you must have the .lic file generated in the step Offline Request.
The generation of the file carried out in the step Offline Request is mandatory for offline registration. See a complete step-by-step of how to do Offline registration
Offline License Registration
On this screen, we need to inform the data necessary for registering the tool: User, Password (Login and password to access the website) and a Serial linked to the informed account. In addition, we need to upload the .lic file previously generated.
The data informed must be the same used on the step Offline Request where the .req was generated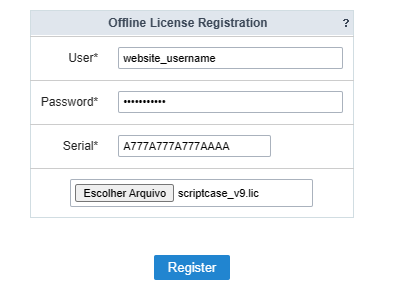 User
Inform the user who owns the license. This usuary is the same used to perform login on our site,and access the client area.
Paasword
Enter the password of the user informed on the field above. This password is the same used to login in our website.
If you have forgotten your password to access the website, click on the link to recover your password: https://www.scriptcase.net/password_retrieval/
Serial
Inform the serial that will be used for registration. This serial must belong to the account informed in the field User.
If you have recently purchased a license, your serial will be available in your purchase confirmation email. You can also view your serials in the client area on our website. See how to find your serial on the site.
Upload field
Upload the .lic file generated in the step Offline Request
Confirmation
After clicking on Register a confirmation message will be displayed.
After registration, you will be redirected to the login screen.