The newest Scriptcase 9.5 version packs the most powerful cloud features allowing Scriptcase to generate apps straight from a cloud based database. The version also lets you to store/read files & pictures from the most used cloud storage services, and more.
Scalable, secure with impressive performance, IaaS offers you the highest level of flexibility and management control over your IT resources. The best cloud computing services providers to host your database are now just a click away from Scriptcase. Connect and create your next project easily with: AWS, Azure, Google Cloud and Oracle Cloud
See how
Some data storage services are ready to securely store/read files and pictures from your Scriptcase system, this option also saves a local file to boost the reading time of the file. In case of erasing the local file a cloud copy will be there up and running.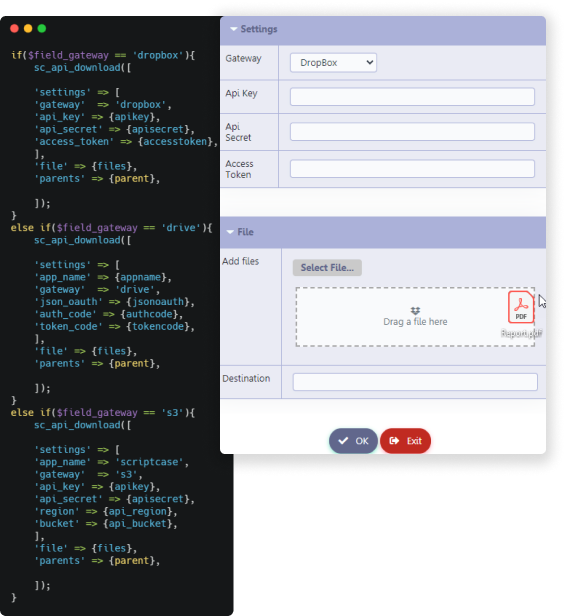 Build your own customized way to manage your files into the storage services and, create your rules by using the powerful storage macros: sc_api_download & sc_api_upload.
Try now
Now in simple steps it is possible to generate real time data in JSON format, available at the Grid application, using the macros: sc_set_json_name and sc_set_export_name.
Try now
The Point of Sale sample project uses some main resources of Scriptcase such as images, pricing calculations, forms, master-detail, multi language login and security module including user authentication.
Try now
Create your own rule, a very interesting resource has been added, which allows you to define the size of the files for the upload field in bytes, MB, or GB, it is also possible to define a specific rule by an extension (Ex: PDF up to 5MB and PNG up to 4MB), this new option is available for all fields that upload files and images.
Ver vídeo
New option to remove border from applications on the Dashboard;
Added regional configuration parameter in the sc_date_conv macro;
Added file name and size options in the Simple Upload and Multi-upload field settings;
New option on the form to notify the user of discarded changes.
We've explained some frequently asked questions to those who already work with Scriptcase, if you're not able to find the answer to your question, you can contact us.
Do I need to reinstall Scriptcase?

No, to make use of version 9.5 you only need to update your Scriptcase by accessing the menu in the "Help -> Update Version" option. It is recommended to upgrade to receive corrections and improvements.
How do I know if I have the right to use the features of Scriptcase 9.5?

For Scriptcase annual licenses holders: If your license is active you can make use of all the Scriptcase 9.5 features, otherwise you can renew your license with discounts.

For Scriptcase lifetime licenses holders: If your annual upgrade period is active, you can make use of all the Scriptcase 9.5 features, otherwise you can renew your license with discounts.
Do I need to uninstall Scriptcase 9.4 or (9.x) to use Scriptcase 9.5 ?

No, for Scriptcase 9.0, 9.1, 9.2, 9,4 and 95 projects are fully compatible with version 9.5. There is no need to migrate projects.
Does the version 9.5 will change any settings of my installation?

No, version 9.5 uses the same version 9.4 environment.
How do I convert a project from version 8 or earlier to version 9?

The conversion process is automatic for versions 6, 7, 8 and 8.1. Conversion guide
I want to purchase a license. What options do I have?

We have two license types: annual with expiration date at a lower price; and perpetual licenses with no expiration date with only optional yearly updates. See Pricing →



REGISTER NOW!