Say goodbye to re-type password
'Remember me' option for the login screens option available into the security module.
See how
Read Doc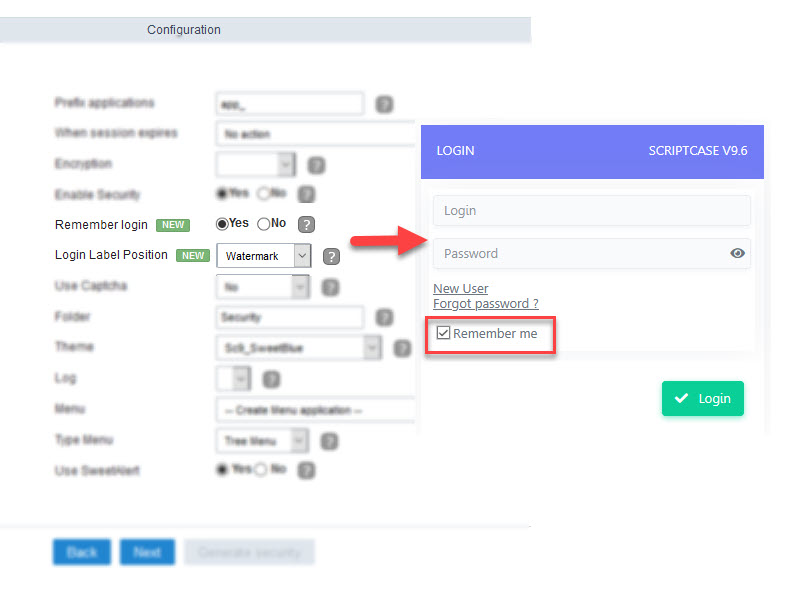 Http response headers & cookies
New native security features available for all applications, these features will increase the security levels.
Read cookies Doc
Read headers Doc
Cookies Secure
Prevents the cookie from being captured via javascript, makes cookies work only in the application domain. More info here.
Auditor XSS
It avoids Cross-site scripting and protects against malicious HTMLs and Javascripts, it is already enabled by default in Scriptcase applications. We have enabled a new option to disable in case the developer needs to control manually.
Strict-Transport-Security
Forces browsers to use HTTPS in the domain where it is enabled, instead of using HTTP.
X-Frame-Options
This header provides protection against clickjacking, known as 'click swipe' - this vulnerability can steal relevant information and data from the user.
X-Content-Type-Options
X-Content-Type-Options is used to protect against MIME detection vulnerabilities.
Referrer-Policy
Controls the traffic of sending messages, request control. Most commonly used option is "no-referrer-when-downgrade".
Feature-Policy & Permissions-policy
Standard browser features, determine what the page will load. They have the same function, with different syntax. The Permissions-policy option is mostly used.
Content-Security-Policy
Determines the behavior of API functionality in the browser. The Content-Security-Policy header allows you to restrict resources such as JavaScript, CSS or just about anything the browser loads.